For enhanced efficiency, our vehicle forwarding department uses proven freighters with whom we have excellent long partnership and long-term contractual relations.

We offer:

• Our own and hired vehicles up to 22 t and 115 q.m.;
• Specialized transport with car trucks;
• Specialized transport of hazardous and extra-size cargos;
• Container transportation;
• Our own cars from 4 to 45 q.m.;
• Car transport in the country;
• Cargo convoy in the country;
• Cargo insurance;
• General guarantee for the "Transit" regime;
• Electronic tracking of cargos;
• Combined transport.
The following activities are implemented on the territory of the terminal:
• Packing, re-packing, partition and distribution of goods;
• Re-loading of trucks, change of property, customs regime
and re-export.
Next time you have to transport some cargo, you can call us.
You will be surprised how easy this task can be.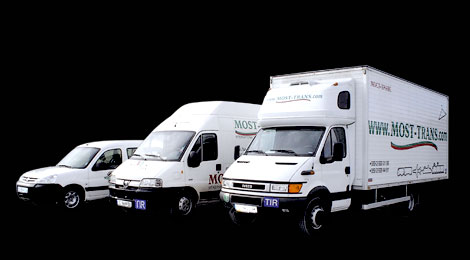 Presentation • Container Transport • Land Transport • Air Cargo • Railway and Combined Transport • Customs Service • Distribution of Goods
Movers • Our Partners Worldwide • Schedule • Request for Transport

© 2002-2011 MOST TRANS LTD., 78, Traian Tanev Str., Suhodol District, 1362 Sofia, Bulgaria.
Phone: (+359 2) 929 1753; Fax: (+359 2) 929 4461; e-mail: office@most-trans.com
© Design by StudioPlus Ltd.